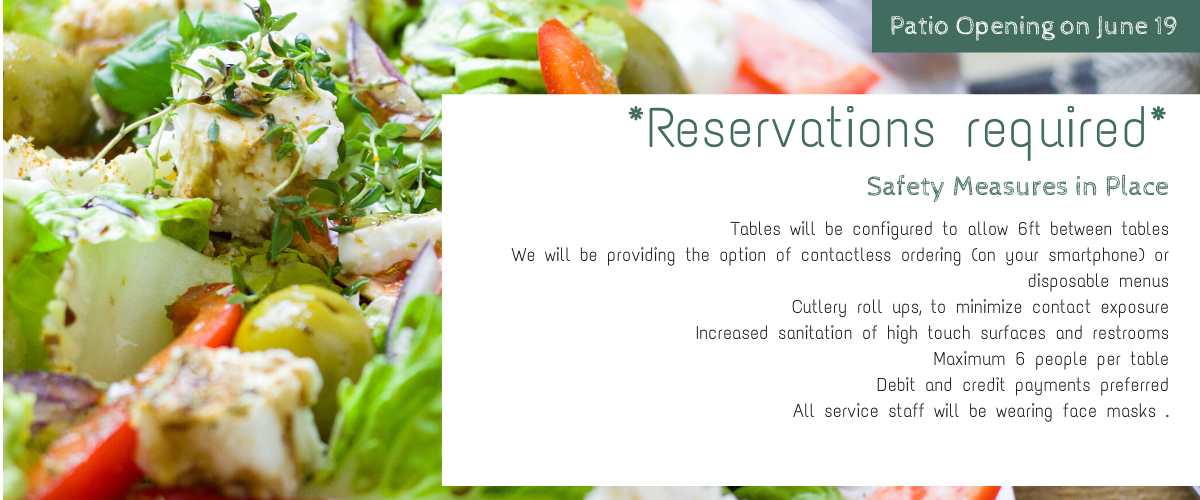 OUR STORY
**Limited indoor dining now available along with heated patio dining **

Harvest Restaurant is located in the rapidly growing community of Brooklin (north Whitby), and offers a dining experience that the region of Durham has been looking for!
The menu evolves seasonally and is rich in flavour and color. The owner Steve, brings his passion for people, food and flavour to one of a kind setting.
We invite you into the 120 year old Century home with such wonderful character, not only to dine with us, but to become a part of the family. At Harvest, we love to eat. We also like to have fun…
our philosophy is to marry the two. Come dine with us, meet our family and have a great time.
1 WAY STREET . BROOKLIN . ONTARIO . 905 655 7687
INFO@HARVESTBROOKLIN.COM

VISIT US ON SOCIAL MEDIA FOR UPDATES & SPECIALS!!

BOOK A RESERVATION
Details & Features
Type

:

Canadian
Features

:

Catering, Events, Fine Dining, Full Dinner Menu, Vegan Options, Gluten Free Options, Group Functions, Local Foods, Vegetarian Options, Online Ordering, Patio, WiFi
Neighbourhood

:

Brooklin, Whitby, Oshawa
Payment

:

Visa, MasterCard, American Express, Interac
Price Range

:

$$$

$

»

Premium (Between $20 to $35)

Atmosphere

:

Casual
Attire

:

Casual
RED ZONE UPDATE:
Only 10 patrons are allowed to dine inside at one time
We are offering 3 seatings (5:00pm, 6:30pm & 8:00pm) - by reservation (online or phone)
Patio dining with heaters is open weather permitting
Maximum of 4 guests seated at one table
Take out available (full menu)
The following safety measures are in place in order to ensure the safety of you and our team:
Limited seating and serving hours
Tables are socially distanced
Contactless menu & ordering (on your smartphone) or disposable menus
Cutlery roll ups, to minimize contact exposure
Increased sanitation of high touch surfaces and restrooms
Face coverings required except when seated (to eat and drink)
Debit and credit payments preferred
All service staff will be wearing face masks
Operating Hours
Hours may change during holidays or special occasions. Please contact the establishment for specific information.
Monday

:

CLOSED
Tuesday

:

4:00pm - 9:00pm
Wednesday

:

4:00pm - 9:00pm
Thursday

:

4:00pm - 9:00pm
Friday

:

4:00pm - 9:00pm
Saturday

:

4:00pm - 9:00pm
Sunday

:

4:00pm - 9:00pm
Group Functions
Harvest is the perfect place to celebrate...
Please email us at info@harvest brooklin.com for more information on group bookings.
We do not have and group function details at this time.
Contact
Harvest
Phone :
(905) 655-7687
1 Way St.
Brooklin, ON
L1M 1B3
---
Directions
Enter your address including your city to get detailed driving directions.
* The directions provided by this site are for planning purposes only. You may find that construction projects, traffic, weather, or other events may cause conditions to differ from the map results, and you should plan your route accordingly. You must obey all signs or notices regarding your route.
---
Be a part of The Harvest Family
Please take a moment to sign up for our VIP list and newsletter to stay up to date with what is happening at Harvest…Special Events, Wine/Beer Dinners, Promotions, Family Gatherings!! Please note that your privacy is important to us, and your information will not be passed on to any third parties.
what's happening at harvest
Live MUSIC on the Patio - Friday & Saturday evenings
(weather permitting)